I vividly remember the first time I heard the term "doughnut hole." I was visiting my Medicare-age parents, and they received an EOB from their Part D carrier in the mail that day. After my mom looked over the EOB, she said, "well, I'm in the doughnut hole again." I was so confused! What? Did she say "doughnut hole"?
This was when I realized I needed to learn more about my parent's insurance coverage and this "doughnut hole" they were speaking of. At that time, my parents were both very healthy and handled all of their Medicare business. However, this was also the day that I vowed to learn more about their Medicare insurance, should they ever need help making those choices in the future. And that is how I entered into the wonderful world that is Medicare.
Your Part D (Prescription Drug) Plan has 4 levels of coverage:
Deductible Phase
Initial Phase
Coverage Gap Phase ("doughnut hole")
Catastrophic Phase
During the deductible phase, you pay 100% of the cost of your medicines until you reach $445* in out-of-pocket expenses. Once you have spent $445*, you then enter into the Initial Phase.
While in the Initial Coverage Phase, you will either pay a copay or co-insurance until your out-of-pocket expenses total $4130* (this amount comprises your copays or co-insurance AND the amount of money your drug plan has paid towards your medicines).
The "Doughnut Hole" Phase
Next, you would enter the "Doughnut Hole" or Coverage Gap Phase. During this phase, you pay more for your meds (25% of the generic cost and 25% of the cost of brand-name drugs). You stay in this phase until the combined total of what you and the drug company have paid for your medicines equals $6550* in out-of-pocket expenses.
Your prices for drugs are much lower during this period. You pay the greater of 5% or $3.70* for generic medications and the great of 5% or $9.20 for brand name medicines. Once you've reached that $6550* amount, you then enter into the final phase, the Catastrophic Phase.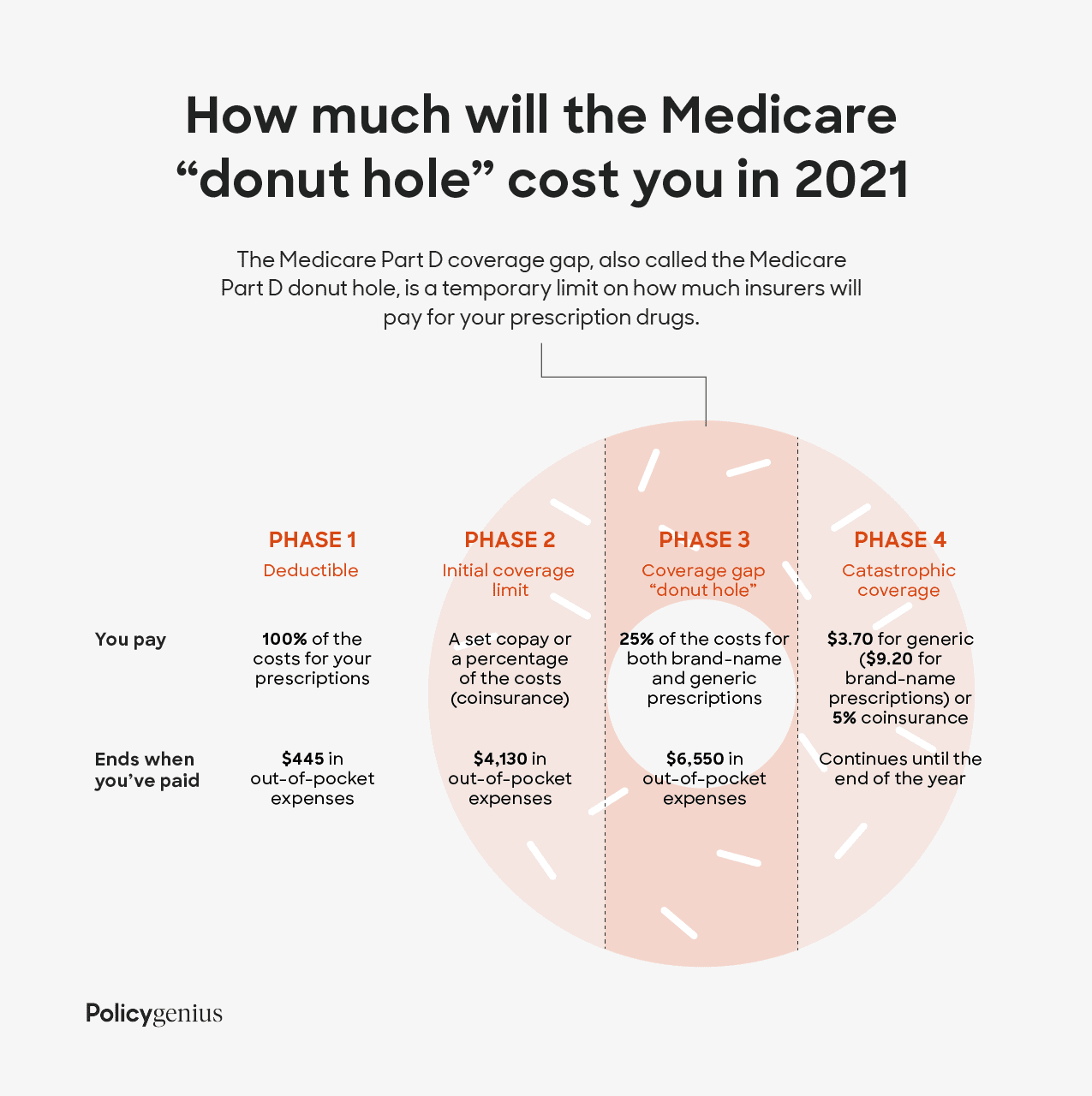 It's important to note; not everyone enters the doughnut hole. This depends on the number of medications you take and the cost or drug tier of those meds. Many people NEVER enter the doughnut hole.
However, many people DO enter the doughnut hole, so it's important to understand that you will pay more for your medicines during this time. Some people enter the coverage gap and never get out before the end of the year. Some people enter the coverage gap extremely early in the year (due to the high costs of their medicines) and then spend the remainder of the year paying substantially lower copays and coinsurance for their medications.
Drug plans and formularies change from year to year. It is always a best practice to meet with your trusted advisor and choose a plan covering your medications.
*prices are 2021 rates as determined by CMS